Where Cultura Meets Inspiration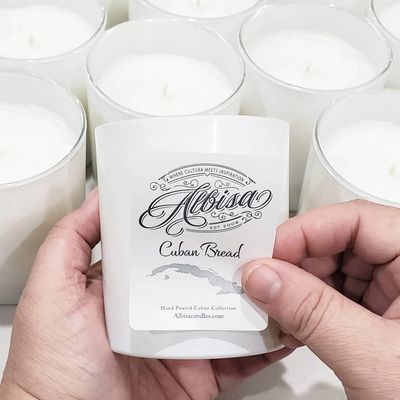 Cuban bread
 The savory aroma of fresh-baked Cuban bread. You can almost taste the salty crackling crust and doughy buttery center. 
Tinguaro(teen-guar-oh)
 Tinguaro's is a fresh mom clean scent. It will take you to a simpler time in the countryside where the gentle breeze will bring out the smell of sunshine and clean linens.  Notes of Jasmine, Rose, and woody musky notes. Infused with cedarwood essential oil. 
Havana Nights
 This candle will walk you through a steamy night in the sultry and mysterious city of Havana. Spinning you onto the dance floor and tantalizing you with the sophisticated scent of exotic amber vetiver and notes of wood and musk fused herbs. A touch of smokey tobacco, sweet leather, and cedarwood.  
Cafe con Leche
    This candle takes you through the aromatic journey of café con leche. It starts with the unmistakable scent that fills the air with robust bold thick cafecito that first trickles into the cafetera, then brings in the warmed milk and sugar balanced with a pinch of salt. Perfect for any time of day. 
Dulce Fuego
   It's a woody aroma with warm spices, charred leaves, a musky cedar and sandalwood, a touch of smokey sage with a hint of brown sugar to add a kiss of sweetness.  
Violetas
  A delicate floral scent of wild violets reminiscent of baby cologne.  
Maravilloso
  Soft lavender top notes with subtle citrus and bright floral bottom notes. A Fabuloso type scent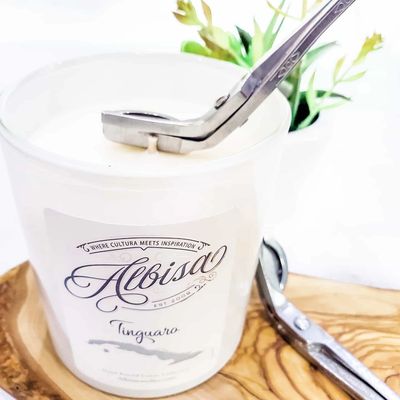 El Bosque (seasonal)
  Spicy wood is the essence of this rich autumn fragrance with notes of bergamot, orange, and lemon; with middle notes of geranium, lily; and base notes of patchouli, vetiver, and tonka beans. 
Pumpkin flan(seasonal)
  The perfect warm and inviting scent. Fresh pumpkin intertwines with a smooth touch of caramel, delicate spice notes and brown sugar blend harmoniously to create the most mouth watering pumpkin flan.